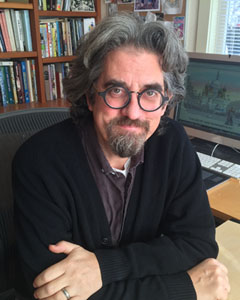 R.J. Matson is the editorial cartoonist at Roll Call and his cartoons are widely syndicated by caglecartoons.com.
RJ was the editorial cartoonist at the St. Louis Post-Dispatch from July 2005 through July 2012, he was the editorial cartoonist at The New York Observer from 1989 to 2010, and he has been the editorial cartoonist and staff illustrator at Roll Call since 1986. His cartoons and illustrations have appeared in many other publication, including The New Yorker, The Nation, MAD Magazine, City Limits, The Daily News, The Washington Post, Washington City Paper, Capital Style, and Ethisphere.
R.J. has created the cover art for 19 CDs put out by the Capitol Steps comedy troupe, and he has illustrated several books, most notably Millenials Rising, 13th Gen-Abort, Retry, Ignore, Fail?, The Single Woman's Guide to the Available Men of Washington, and How to Satisfy a Woman Every Time on Five Dollars a Day.

Born in Chicago in 1963 , Robert John Matson was raised in Brussels, Belgium and Minneapolis, Minnesota. He received a B.A. from Columbia University in 1985 and won a National Scholastic Press Association Award for cartoons he contributed to the Columbia Daily Spectator. R.J was also a visiting student at Pembroke College, Oxford University for one year.
He moved to Washington, DC in 1985 to work as a reporter for States News Service. In 1986 he became the staff illustrator at Roll Call and the editorial cartoonist at the Montgomery County Sentinel. He was the art director of The Washington Monthly from 1986 to 1988.
R.J. returned to New York City when he became the editorial cartoonist at The New York Observer in 1989. He moved to St. Louis in 2005 to work at the Post-Dispatch. He now lives in Falmouth, Maine, with his wife Mari and their three children, Sofie, Gus and Milo.
His editorial cartoons have won two Maryland-Delaware-DC Press Association awards and two Missouri Press Association awards, and he drew Time's Best Cartoon of the Year in 2007.